Master in Space: Remote Sensing, Astrophysics, Satellite Technology from USTH is the only training program in Vietnam for future scientists participating in the new era of space science and technology development. Graduates are awarded by USTH and one of USTH's French partners.
1. OVERVIEW
1.1. General information
The master's program in Space is built to provide future scientists who will participate in the development of space technology and sciences in the next decades in Vietnam and worldwide. The master's degree is co-granted by USTH and one of 4 French partner universities: University of Paris, Observatory of Paris, University of Montpellier, and University of Paris Est-Créteil. The courses are delivered by highly qualified and experienced lecturers from USTH, and French universities with additional support from Space Technology Institute (STI) and Vietnam National Space Center (VNSC). The master training system at the USTH is realized through the European Credit Transfer and Accumulation System (ECTS).
Why you choose this course:
English as the official teaching language
Well-qualified lecturers from reputable French universities and USTH
Advanced teaching methods
Opportunities to participate in research projects with lecturers
International standard laboratories
Scholarship up to 100% tuition fee; opportunities to get 100% internship scholarship in France
1.2. List of universities and institutions co-granting with USTH
University of Paris
Paris Observatory
University of Montpellier
University of Paris Est-Créteil
2. PROGRAM 
2.1. Curriculum
The master's is organized in four semesters:
M1 semester S1 (30 ECTS) 6 common modules and two specializations
M1 semester S2 (30 ECTS) 4 common modules, two specializations, and a 2-months internship
M2 semester S3 (30 ECTS) 11 common modules
M2 semester S4 (30 ECTS) a six-month internship in laboratories, possibly in France
Practice: Students can practice in the laboratory, practice on the computer, or go to the field
Location:
Computer room
SPACE Lab
Astronomical observation station at Hanoi National University of Education
Satellite image acquisition station, National Remote Sensing Center
Courses with practical lessons:
Advanced Electronics Systems
Signal processing
Telecommunications & antennas
Earth Observation Engineering
Remote sensing
Particle and material interactions
Embedded Engineering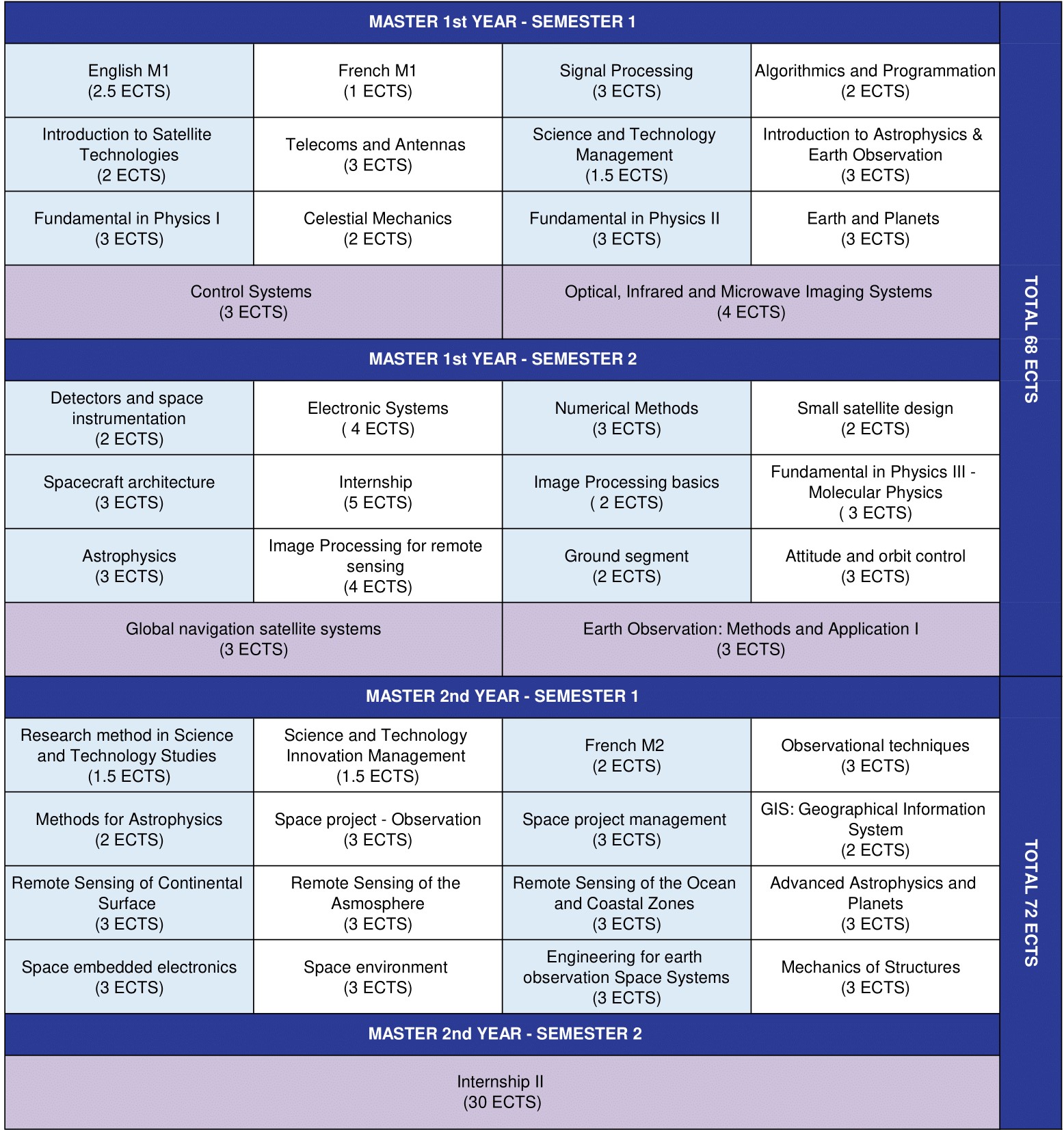 2.2 Career opportunities
Work in Space industry
Pursue higher study in France, and in other countries in Europe, Asia and America
Work as Engineers or researcher in space science and satellite technology:
3. ADMISSION REQUIREMENTS 
Candidates applying to the program need to meet the following entries requirements:
Students have foundation knowledge in physics
Students are good at English skills
Have a passion for the field of space science and technology: earth observation, space observation, remote sensing, satellite technology, …
Recruitment for M1: 
There will be 2 rounds: profile review round and interview round (with video interview possible). After the application round, USTH will send an invitation to the candidate for an interview. Candidates will be interviewed in English by Admission Committee with international professors.
Recruitment for M2: 
Candidates with the same qualifications as Year 1 who wish to apply directly to Year 2 will be interviewed by a panel of USTH faculty members.
4. CONTACT 
For more information, please contact
– About the training program: 
Department of Space and Applications (SA)
Tel: (+84-24) 32 12 15 72
Email: sa_dept@usth.edu.vn
Add: Room 308, 3rd floor, A21 building, University of Science and Technology of Hanoi
Website: http://space.usth.edu.vn/vi/
– About Admission: 
Department of Academic Affairs (DAA)
Tel: (+84-24) 3791 7748
Email: admission@usth.edu.vn
Add: Room 102, 1st floor, A21 building, University of Science and Technology of Hanoi